IN THE I-601 HARDSHIP WAIVER PROCESS – WE ARE HERE TO HELP YOU AT EVERY STEP
"In navigating the changes and complexities of immigration law, there are many circumstances which require the help of an immigration attorney. But this is especially true in the case of applying for an I-601 waiver, since in many cases, so much is at stake in your first attempt to convince immigration officers that your case merits approval."
I-601 Waiver Immigration Attorney, Kaushik Ranchod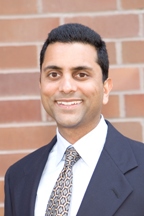 I practice in the area of I-601 waivers because I am passionate about reuniting families.  I firmly believe that families should not be ripped apart if it is possible to keep families together by filing a succesful waiver application.  Therefore I am dedicated to using my knowledge and experience to untangle the legal complications that keep so many families separated.  Immigration law is constantly evolving with technology and methods to improve efficiency and equity.  I look upon each client as an individual and evaluate each case according to its unique factors.  In other words, I have a formula based on pre-developed strategies and processes I have developed over the last eleven years.  My unique personalized approach to preparing your waiver application helps us prepare a legal I-601 waiver legal brief that highlights your extreme hardship factors.
FIRST, we will determine if you qualify for the I-601; and then
NEXT, we will answer questions about what your application involves, consult with you to obtain all of your extreme hardship factors, recommend what documents you need to collect based on our consultation, and outline the specific steps you need to take to obtain the necessary documentation.
FACT:  Our team is committed to keeping you informed on a regular basis, which means responding to your phone calls and e-mails promptly.  Unfortunately, I do get calls from individuals who are frustrated by their law firm because they do not return their phone calls.  Sometimes it is too late because their case was already filed or they paid the attorney large sums of money.
FACT: The I-601 waiver process is complex and calls for the assistance of an attorney experienced in hardship waivers.  Additionally, it is often the attorney's effort and expertise that makes the difference of whether a case is approved or denied.  When you retain our office we will prepare a legal brief and put together an application package that is clear and well-organized.
FACT:  Everyone at Ranchod Law Group is committed to putting in 100% to ensure that your family member's application for legal status will be accomplished as quickly as possible. Our team is prepared to work with you in a way that demonstrates our commitment to your satisfaction.
CONTACT RANCHOD LAW GROUP
Our Legal Team:
Our offices are located in Sacramento and Santa Clara California, but the practice of immigration law is not limited to a particular region of the United States. We have clients from all over the nation, and serve families located around the world.
How can we help you? Fill in the Form now!